She Is Action For Businesses
Streamline your visibility, simplify your content, and eliminate hassle with our simplified B2B2C women's community sports platform.
We're currently onboarding sports, wellness and femtech businesses for our November launch. Join now!
Be Seen By The Right Audience At The Right Time
We leverage technology to ensure your business is found by your future customers, by curating a selection of businesses and content to meet member's needs rather than relying on them searching for you
One profile for everything and simple content structures
Forget the time consuming content creation of social media like Instagram and Tiktok, simplify things with easily searchable article style content, tagged in meaningful ways so they can be found
For year 1, we only have one simple membership package to make it easy to be part of the community and start building your audience.
Purchase today and we'll onboard you for our November beta launch.
Create a business profile
Prior to our November launch, we will give you access to create a unique profile with your website, contact details, social media accounts and branding. You'll be added to the sports directory. 
We'll provide you with a content guide once you're signed up and from there it's over to you. Post events, helpful articles, brand information and more using our simple template. We'll do the hard bit of making sure it's found!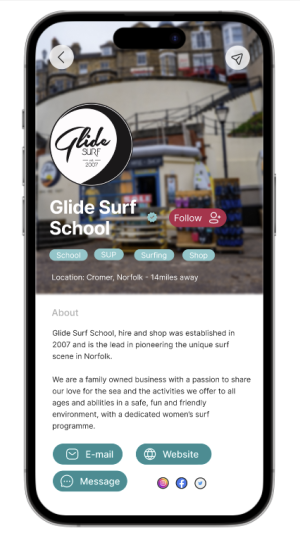 Our founders believe every woman should have a place in sport and the confidence to find the thing they love that puts a smile on their face. 1 in 2 teenage girls drop out of sports and there is a reported 2.3m "enjoyment gap" in sports between women and women. 
We are committed to being a part of changing that and nurturing the roots from which women's passion for sports can grow.
Read more about how being a part of the NEW Home of Women's Sport is about more than just your business being found by a community of adventurous and bold women. 
Join Us As An Early Adopter On Our Simple Entry Package
We're currently in build phase, but we're already signing up members and businesses for our launch in November. Sign up today and get ready to be found by a community of adventurous and bold women.
We have one simple entry-level package for early adopter businesses joining us for year 1:
Entry Package
Only £10 a month
Mention in our B2C members newsletter

Host groups for your business / event

Customer starter pack (content guide etc)
There's a lot to think about! And you probably have questions.
Get in touch with our co-founder and CEO, Gemma, to request a business pack and arrange a call to find out how joining She Is Action can benefit your business.